Over the years we have been lucky enough to build an affiliation with the world famous X Factor talent show and have looked after a number of projects relating to them. Nearly 10 years ago we created a surprise bespoke Figaro for Dermot O'Leary's wife, Dee.
This car is a fantastic high specification lapis grey model with a charcoal grey interior and a great option list. The car went through our bespoke restoration process at the time and was completely stripped down. It boasted new suspension, brakes and steering components. The car had an in depth overhaul and was made like new in regard to all the running gear and mechanical items. On top of this, the car was dismantled and fully repainted in its factory shade, the chrome trim was refurbished and replaced and the external trim was reconditioned too.
On the inside the car was made like new, with brand new leather throughout. This included our renown leather seats and dashboard in Italian leather. The interior panels were blast cleaned and re coated too, giving the car an incredible as new feel. All in the slightly unusual but very attractive monotone colours.
Now 10 years later the car is back with us for some servicing. During that time we have been working hard on parts development and have created some really unique and valuable parts for the Figaro community.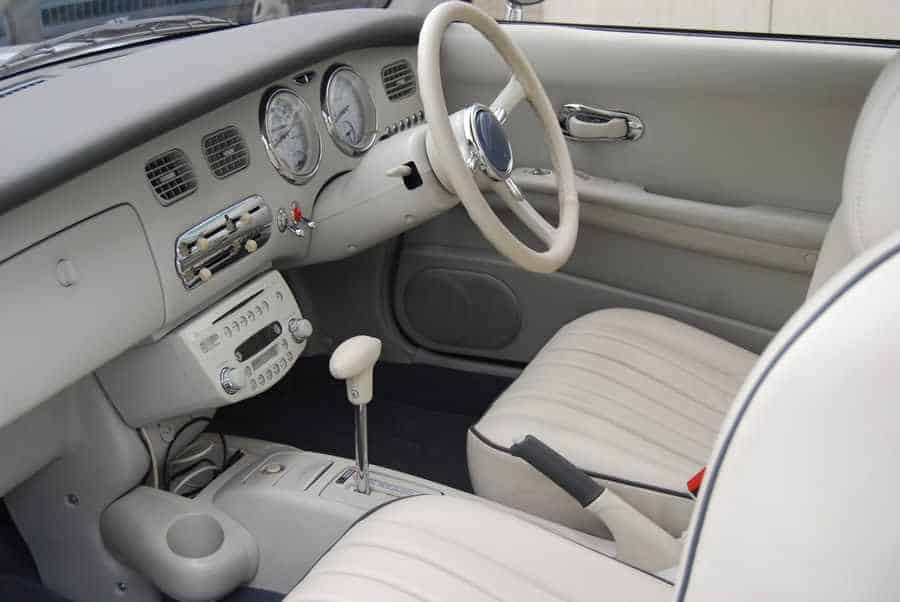 As we have seen areas of the car become unreliable or weak, or parts have become obsolete we've always tried our best to create replacements and upgrades. Dermot and Dee's Fig' has been treated to our silicone hose upgrade, an important extra eliminating the risk that the original and often perished items cause regarding water leaks and head gasket failures.
On top of this, its had our polyurethane rear suspension to improve the ride and our new polyurethane engine mounts, eliminating the sway and sloppiness that worn and perished rubber parts cause.
Other than some servicing it's great to see how one of our restored cars has held up, this Fig doesn't need any paintwork and the chassis and engine are as good and strong as ever. With some standard servicing in place the car is good to go.
It's a testament to the standard of the car and the level of restoration. As always it's a pleasure to see any Figaro owners that spend so many time enjoying their car. We hope Dermot and Dee own the Fig' for 10 more years.