In Didcot, Oxfordshire, we currently have a car that has been shipped to us from 6016.20 miles away. From Hong Kong!
This car, normally kept safe in a private inner city garage, was recently collected by truck, and taken to port. There it was transferred to shipping container before being shipped overseas to England from the other side of the planet.
That's a long journey.
It has arrived with us safely and work is now underway. But why did this car undertake this journey? Why did David Wong send us his car?
David understands cars and their values – a fact that is evident in his fine collection. That he chooses to maintain this collection in Hong Kong where space is at a premium is further evidence of his commitment and passion for his collection.
The car he has sent us is very special – even for a Figaro. This is an extremely rare, low mileage, Figaro with 11k miles on the clock. The colour is a stunning emerald green.
David has owned this car from almost new. He wants to look after it.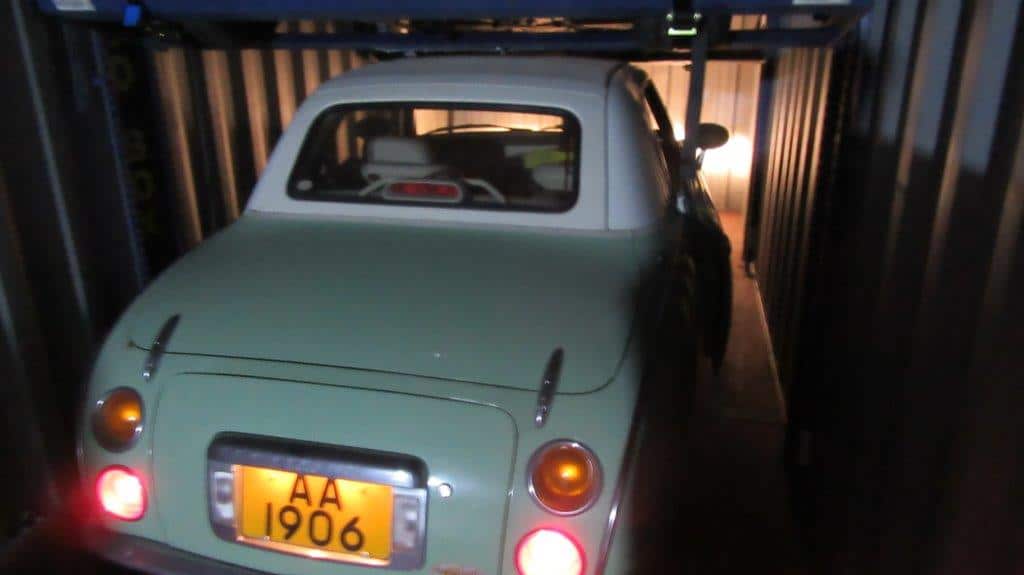 Having actively followed our work online for a while David decided to take the next step and work with us, using our unique restoration evaluation process. This process, which can be seen here was created for our customers so they can get a full health check of their vehicle. It includes a full breakdown, point by point, on the condition and work needed on their Figaro.
In this case a full restoration was carried out, both inside and out including:
Rust removal and repair using custom and exclusive panels
All new and refurbished chrome trim
Stripping the interior before recoating, refurbishing and replacing it
Installing a new leather dashboard, seatbelts and carpeting
The result will be a super rare, lovingly restored emerald green Nissan Figaro with low mileage.
A real collector piece that will appreciate in value.
At The Figaro Shop we work with people from all over the world. If you want the best service possible for your vehicle get in contact with us and we'll make sure you don't have to compromise on full access to our unique restoration skills and exclusive parts.
If you'd discuss what we can offer you in greater detail please contact us.
Also look out for future updates on this restoration, here on the blog and on social media!