We all have dreams and some of us really go for them, no matter what they are, or how far we have to go to achieve them. We relate to our customers for whom a custom build like this car is a lifelong dream. We too are in love with all things Figaro and our dream really is to make our customers have that amazing, wow experience. We want to show you not only that we're number one when it comes to Figaros but also that in sharing your passion we really have that shared understanding you need the people you're working with to have when it comes to helping you realise that dream.
This incredible candy red Figaro, after receiving the full Figaro Shop treatment, is now being shipped all the way to Texas. Because sometimes that's how far you have to go to get what you want! It's been an amazing journey already working on this car so here's a look at all the work that's been done, and how this project has really been brought to life.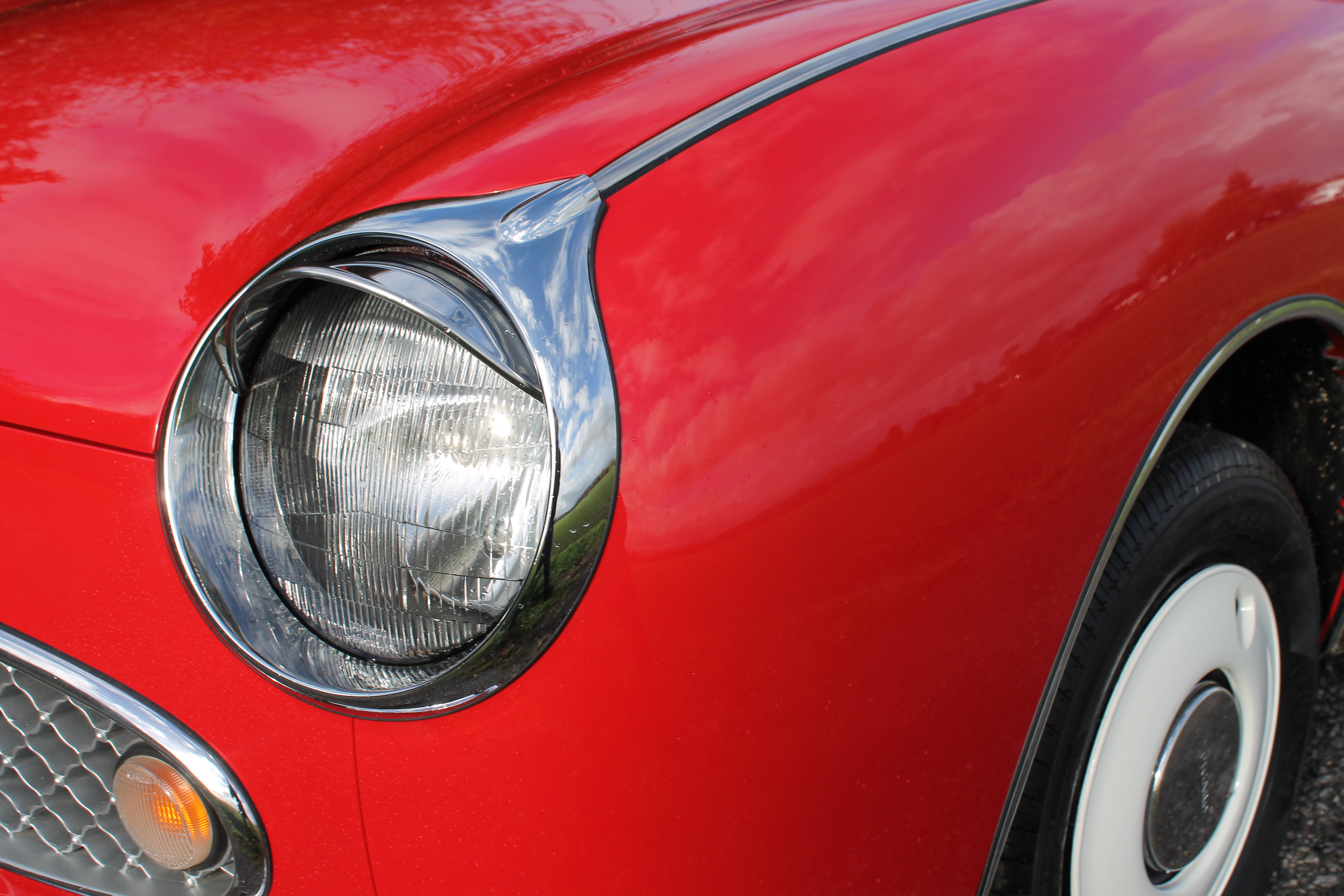 First of all there's the incredible, custom shade of red, which just looks incredible on a Figaro – and will look even better we imagine, in that hot Texan sun at dusk!
Work also included a full wax treatment of the bodywork and a new top section with our in house refinishing method for this.
Next, let's take a look at all the amazing details of the interior.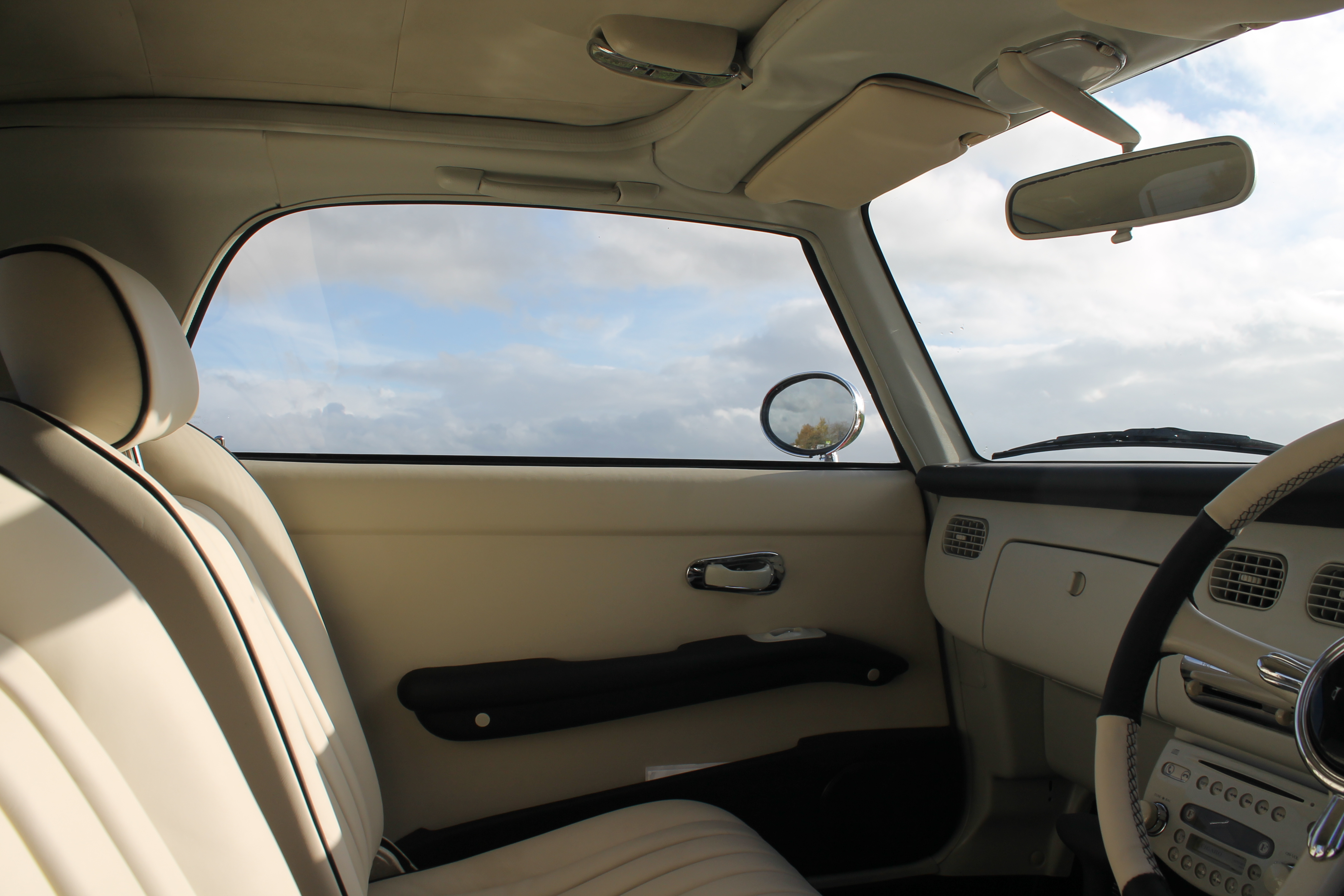 Here's a list of the work on the interior:
Dashboard top re trimmed in fine Italian leather. The leather is flown in from our
approved supplier and hand crafted to the very highest standards available. Black
Dashtop.
New Leather Front Seats, with new foam and fluting Ivory with Black Piping
Bespoke Carpet set fitted in Black
New custom Figaro embossed floor mats.
All interior white panels, seals and trim media blasted, cleaned and re coloured.
New seatbelts in Black
New chromework where required
New exterior trims where items cannot be refurbished.
Fog lamp built in to lamp cluster to comply with UK regulations.
MPH dial fitted for UK spec.
New stereo refurbished by Clarion, Level 3.5, New 200 watt door speakers. Mp3 lead
wired into glovebox.
Air conditioner re-gassed and updated from the old R12 system to R134A. Serviced
and re oiled.
All remaining trims reconditioned or replaced.
As you can see the finished interior is breathtaking, as it should be. Why settle for anything less when you know what you want? The same philosophy has been applied on the mechanical work this Figaro. Let's take a look…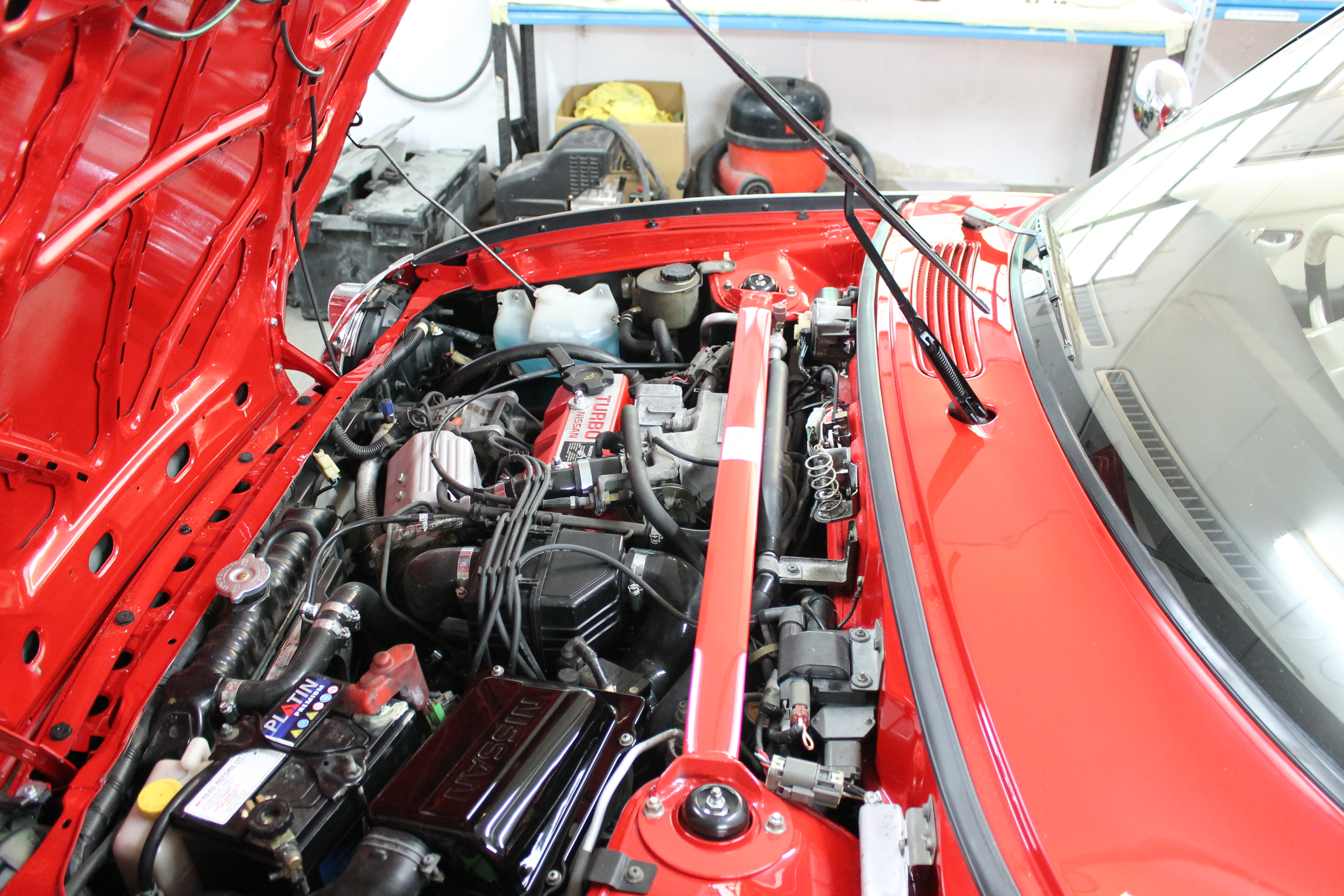 It's just not enough for a Figaro to looks fantastic it needs to have the substance to back it up, which is why so much attention to detail has also been paid to making the car run like a dream – and not just look like one. There's no aspect of the mechanics we will not tend to if needed and this list of work done for this car is a good example of that.
New cold start valve
New ECU temperature sender
Hoses Changed
Water pump O ring
Tappets re gapped, rocker shaft tensioned, new rocker cover gasket, new mushroom
washers, new rocker bolt retainers, New sump gasket
New Ignition leads, spark plugs, distributor cap and rotor arm. Timing checked
Air filter, oil filter, fuel filter, new oil, major engine flush
New cam belt, new water pump, cam seals, crank seals
New wishbones new track rod ends, new suspension all round
New transmission bush
New brake pads, brake shoes, discs and fluid
New set of coolant hoses in silicone
New rear trailing arm and Anti Roll Bar Poly Bushes
All fluids checked/changed
Fully road tested, wheels balanced and car set up and tracked
If you know what you want when it comes to a Nissan Figaro we'll understand you – only too well! It's always good to talk so if you want to tell us more about your dream Figaro give us a call on:
+44 (0)1235 812 511
You can also contact us by clicking here to visit our contact page.